THE LEGACY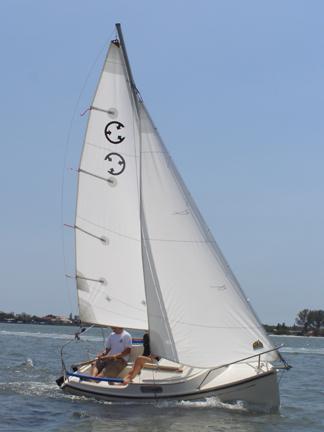 Great new style in a Com-Pac Microcruiser!
The flagship of the Com-Pac line, the Com-pac 16, built for over 30 years, has been completely redesigned above and below to bring you this new micro-cruiser—the Legacy. A new, more modern hull shape with a stainless centerboard gives the Legacy better performance and more certain handling characteristics. Above deck, the cabin has a more contemporary look with room enough for a cozy two-some to spend the night. The cockpit is clean and open with a dropped coaming aft for better access to the motor and the boarding ladder… and the mainsheet mounted on the stainless arch keeps the lines off your shoulder. The Legacy's new Boom-tendr System means that you do not have to remove the mainsail for trailering. Simply tie the sail to the boom… and push the boom up to the mast and lash. Then you are ready to lower the mast. Set up and break down is only a 10 minute affair!
SPECIFICATIONS
Length Overall
16' 6"
Length at Waterline
14' 3"
Beam
6' 0"
Disp
1000 lbs.
Ballast
400 lbs.
Draft (Brd Up)
14"
Draft (Brd Down)
42"
Sail Area
130 sq. ft.
Mast Height Off Water
22'
Call GLSC at 877-339-1760 for more info.